With commitments to not one, not two but three television series, South Side native Bashir Salahuddin is one busy guy these days. Not that he's complaining.
"I grew up without a lot of money. I had to work my ass off," said the 42-year-old writer-actor-producer, who was raised in the South Shore and Auburn Gresham neighborhoods. "Hard work is the only thing I understand."
Besides juggling the role of Keith Bang on Netflix's "GLOW," which just dropped its second bingeable season, he's also one of the creative forces behind a pair of highly anticipated shows coming soon to cable, one of which promises to portray Chicago in a new light.
After leaving the city two decades ago, first for Harvard and then Hollywood, Salahuddin is now back on his home turf, filming "South Side" for Comedy Central at locations across the city. The network ordered an initial run of 10 episodes of the series, written by Salahuddin, his brother Sultan, and Salahuddin's longtime collaborator Diallo Riddle.View image on Twitter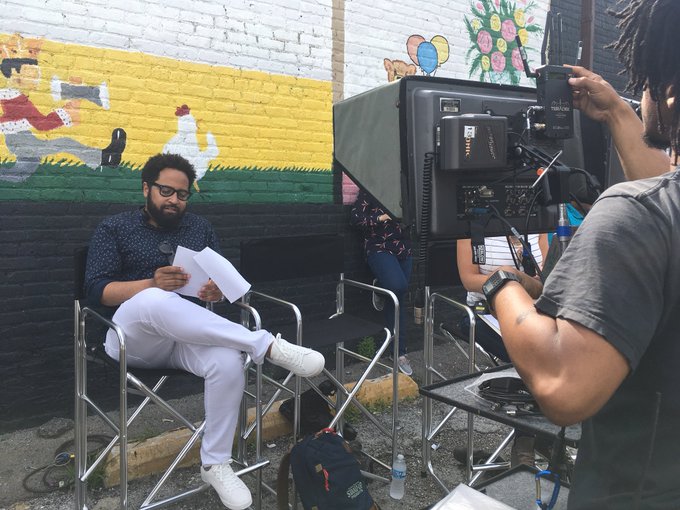 First day of principle shooting #southside @comedycentral #chitown361:06 AM – Jun 26, 2018 · Harolds ChickenSee Diallo Riddle's other TweetsTwitter Ads info and privacy
The production is on an "aggressive" schedule, aiming to wrap its Chicago shoot by mid-August, Salahuddin told the Sun-Times. The air date is still TBD, but he said he's hoping for fall or early 2019.
Though "South Side" is described in press materials as a "workplace comedy," with the action centered on employees of a fictional rent-to-own store in Englewood, Salahuddin said, "We're really writing a love letter to the South Side of Chicago."
ADVERTISER CONTENTEat, Talk, Laugh, and Smile with ConfidenceBy Eon Clinics — At Eon Clinics, we know how much a smile can impact your outlook on life. Our dental implants can restore your sense…
"I've waited my whole life to do this from the point of view I know," he said. "What you see on the news, we're not doing that. We're telling our truth and that encompasses more the joy and the laughter."
As a boy, Salahuddin remembers being surrounded by scientists, doctors and librarians, along with guys on the street selling socks and fruit.
"That realness has got to be in the show," Salahuddin said. "All these rich personalities are under-represented. I want people to see all of us."
People like his father, a mechanic for the now defunct Midway Airlines, who went on to become a teacher, and his mother, a lifelong early childhood educator who passed her sense of humor down to her son.
"My mom is straight up the source of comedy in my life," said Salahuddin, who admits to tapping her brain for material. "I'm not going to deny [her] greatness."
The "South Side" cast is stacked with Salahuddin's friends and family from Chicago, including his wife Chandra Russell, and will be rounded out by Chicago actors and non-actors to lend the series authenticity.
"We are putting actual Chicago people in the show," he said, right down to real CTA bus drivers. "I want to show you people who live here. What you see on the screen is what you see on the street. We really do work hard to make sure the prism is correct."
Bashir Salahuddin and writing partner Diallo Riddle attend the 2018 Sundance Film Festival in Park City, Utah. | Sonia Recchia/Getty Images
Salahuddin's career has been gaining steam since he and Riddle scored a big break penning "Slow Jam the News" on "Late Night With Jimmy Fallon."
The visibility of the Fallon gig led to a deal with HBO, where Salahuddin and Riddle were set to launch a series based in Riddle's native Atlanta when HBO pulled the plug at the 11th hour.
Since then, Salahuddin booked "Glow," about a group of female wrestlers in the 1980s. The role isn't huge — Keith is the uncommonly supportive husband of Sydelle Noel's character Cherry Bang — but the portrayal of black love is one Salahuddin said he's proud to be part of.
"He [Keith] loves to watch his wife shine, to help with what it will do for her to reach greatness," he said.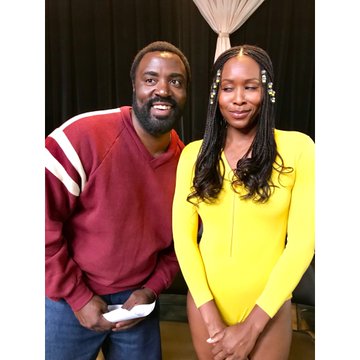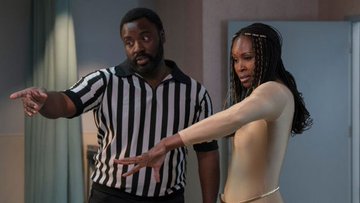 Happy Birthday to #BashirSalahuddin my tv husband. Fun fact: Our Birthdays are in July and we are both Cancers. Could be why we have such good chemistry.#BlackLove @GlowNetflix #BTS #CherryBang1139:29 PM – Jul 1, 2018 · Los Angeles, CA15 people are talking about thisTwitter Ads info and privacy
Season Two digs deeper into the couple's relationship and also gives Salahuddin a chance to live out a childhood fantasy. After refereeing matches during Season One, for which Salahuddin underwent ref training, Keith will occasionally become part of the action in the new episodes.
"I went all out," said Salahuddin, who grew up watching WWF. "It's a dream come true, getting thrown out of the ring."
Bashir Salahuddin (right) poses with "GLOW" co-stars Ellen Wong, Marianna Palka, Jackie Tohn, Sunita Mani and Shakira Barrera at the Screen Actors Guild Awards in January. | Emma McIntyre/Getty Images
Next up, Salahuddin can tick another wish off his bucket list. He and Riddle have inked a deal with IFC for "Sherman's Showcase," a spoof of the musical sketch show genre.
For the writing partners, who met at Harvard and bonded over their similar working-class backgrounds and a shared ability to quote "The Simpsons" for hours, it feels like the culmination of years of striving.
"Sketch has always been in our DNA," Salahuddin said. "The shows I grew up watching were 'SNL' and 'In Living Color.'"
Salahuddin describes the latter's groundbreaking, mostly black ensemble of performers as "life-changing."
"My grandparents, my parents, me and my siblings were all watching," he said. " 'In Living Color,' that's what we've been chasing."